Classical & Early Dark Ages at Marksburg Castle, Braubach 2022
Palmyran vs Xia Xia
With a win in the first game came an opportunity to drink highly efficiently machine-produced coffee in substantial quantities, as it was a little too soon even for us to hit the German beers at that stage of the day
The whole "drinking coffee" thing also meant that we would potentially also indulge in some of Germany's wildly inventively named biscuit-based snack products as well.
At almost the very first bite of one of these beauties, all of that poetically fanciful anglophone lifestyle-marketng nonsense involving over-thought and under-literal names like "Snickers" and "Twix" suddenly seems a lot more than just half a continent away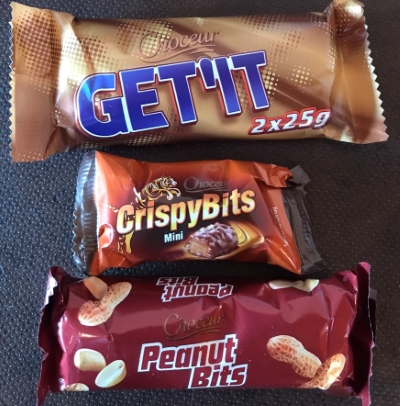 My second round game was against the decidedly un-German Robin, who had gamely brought along a Xia Xia list, on the very sensible basis that the gloabl database of ADLG Armies showed it barely ever being used, and never doing well in a tournament. Unfortunately, or perhaps fortunately, after Robin had embarked upon the purchasing and painting spree needed to put these beasties on table someone had rather unsportingly taken it to a competition and even less fairly actually won with it - including beating me and Adam in the process.
Anyways, its a load of Chinese type people and the lists for the Palmyran and Xia Xia from this game, as well as all the other lists from the games at Braubach can be seen here in the L'Art de la Guerre Wiki.
L'Art de la Guerre hint - Polearm is a new weapon class in v4, replacing some 2-handed sword guys and making them better against mounted opponents but worse against infantry. I'm not sure anyone has quite worked out how to get the best out of them as yet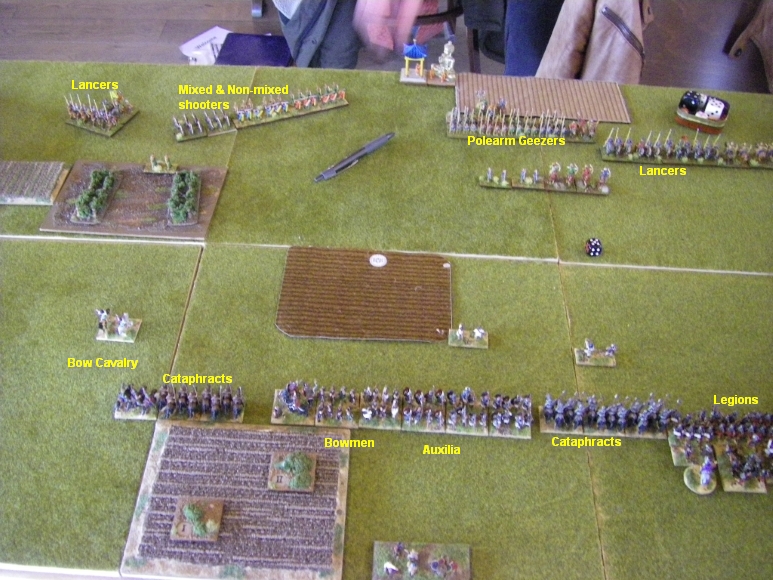 I'd sort of been expecting a Cataphract-Fest, but strangely the table ended up with a lot of uneven ground in the shape of field and even the odd plantation which sort of suggested I had no idea what was in the army after all.
Plenty of spearmen, some mixed shooters and a number of Heavy Cavalry lancers was not what I had foretold when reading the modern-day equivalent of a Roman diviner sacrificing and then reading a Rhineland Palitanate goose's entrails, this time in the rather more contemporary *(and less messy to clear up) shape of a shaken-out crumb collection from the bottom of a wrapper formerly full of Peanut Bits eaten only moments earlier that morning
German Translation: "Verrucktefehler-zukunftsvorhersage"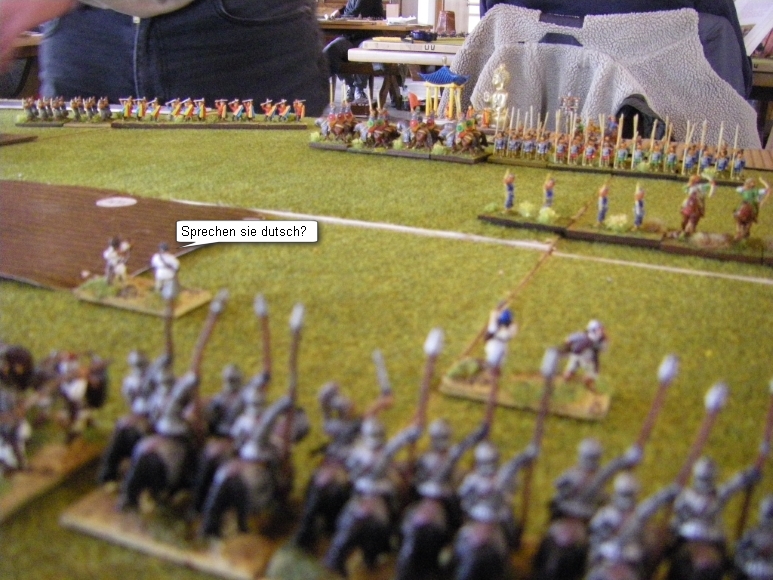 Robin clearly had a plan - but that plan appeared to involve realising that he had his deployment completely messed up almost the moment he finished dropping the newly painted pseudo-Chinese soldiery onto the tabletop
Xia Xia lancers started moving to the left, and spearmen inched to the right as the Palmyrans gazed on in awe and puzzlement in equal measure
This was for sure a lot more complex than the normal ATTACK!!, EVERYWHERE!, NOW!! that seemed to somehow surprise no-one when emplyed by the forces of Zenobia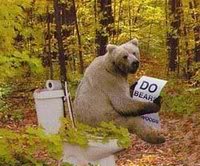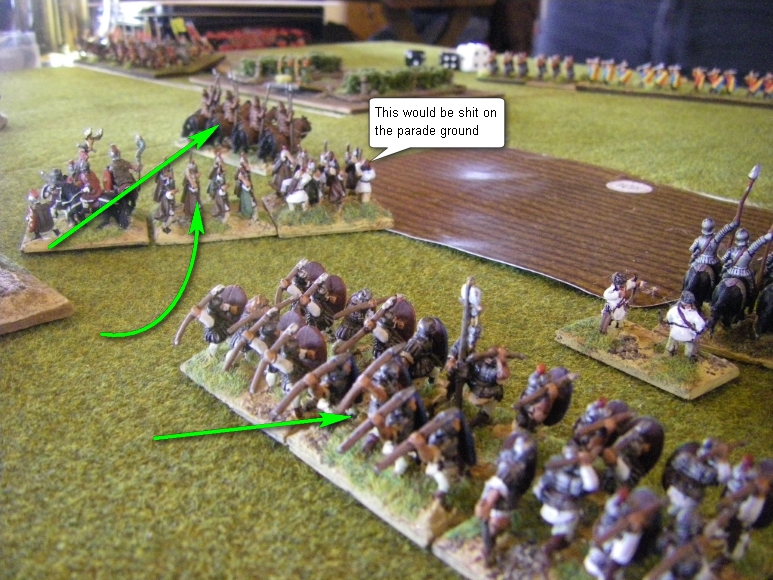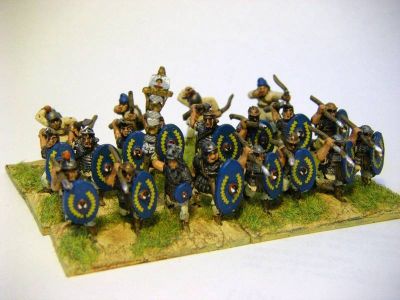 Lolloping Lederhosen!
In another astonishing development the Romanized Auxilia had spotted a field, and so were happily advancing into it.
Never before in the field of human conflict had so many been so clear about having knee-deep immersion in reginally appropriate horticultural landscaping on their minds at every possible opportunity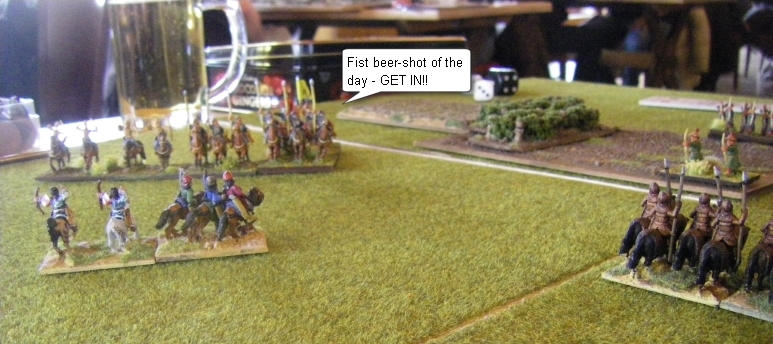 Steckerlfisch! This appeared tantamount to cheating! The Xia Xia forces had assembled a proper force of lancers and stuff and shoved it at pace at the extreme edge of the Zenobian army
What on earth did they think they were doing here, in a place where surely the only fair thing to do was to let the Palmyran combo of One Medium Cavalry Archer unit and one Light Horseman have unfettered reign to roam around unmolested and harass enemy baggage while taking random pot-shots at anyone who dared come close?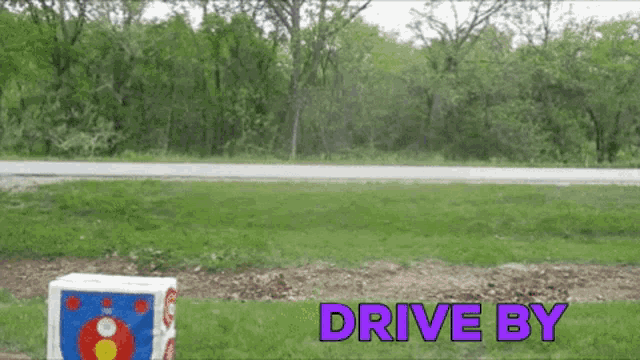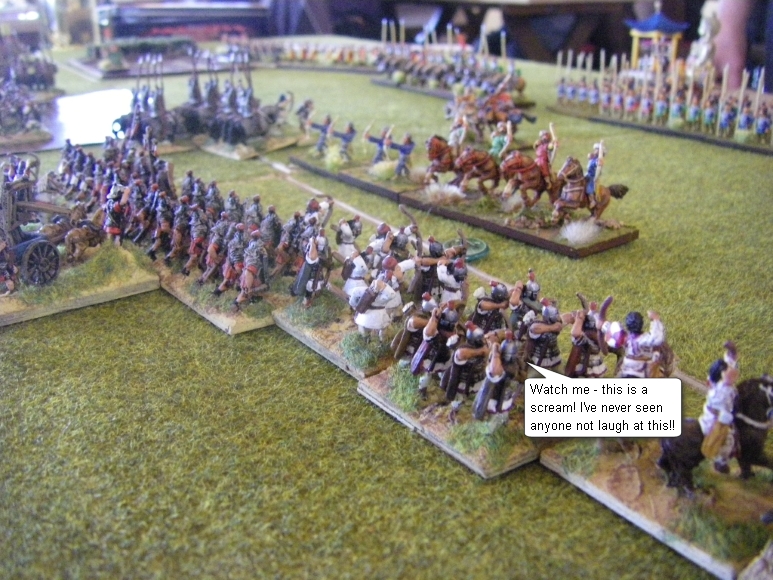 Sizzling Schnitzels! This at least was much more like it.
Seeing a wall of sub-par spear or polearm blokes in front of them, the Almost-Roman Palmyran Legions were marching across the board like they how we imagined we would be marching down the Rhineland's steepest hill to find a German beer keller/pub later that evening.
German Translation: "Bierzeitabendnachkriegbald"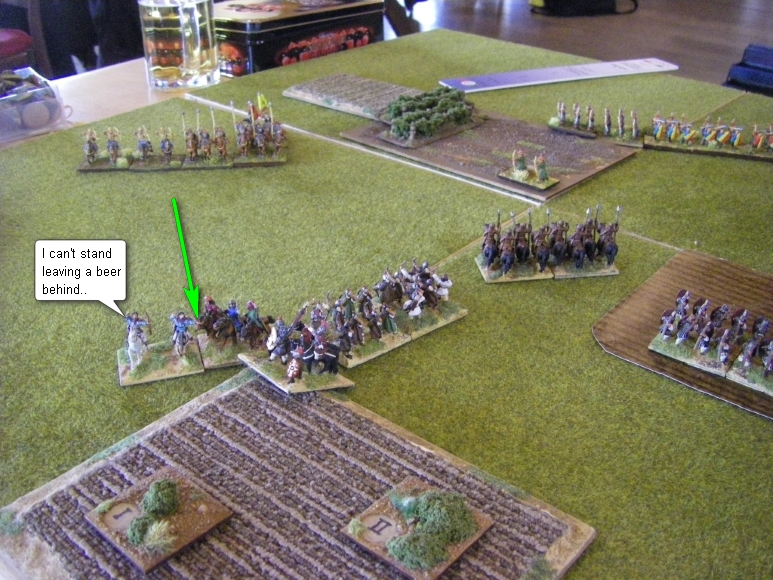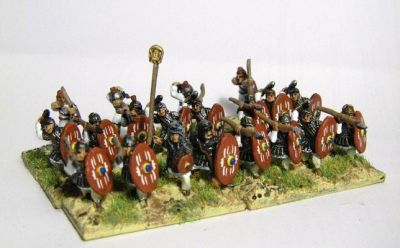 David Hasselhoff's Christmas Special!
With the Xia clearly serious about this whole "we'll outflank YOU" scenario, the seedling planting exploits of the Auxiliary command were swiftly curtailed as they acted in concert with some bang average Cataphracts to hastily assemble a defensive line on the edge of the zone of potential cultivation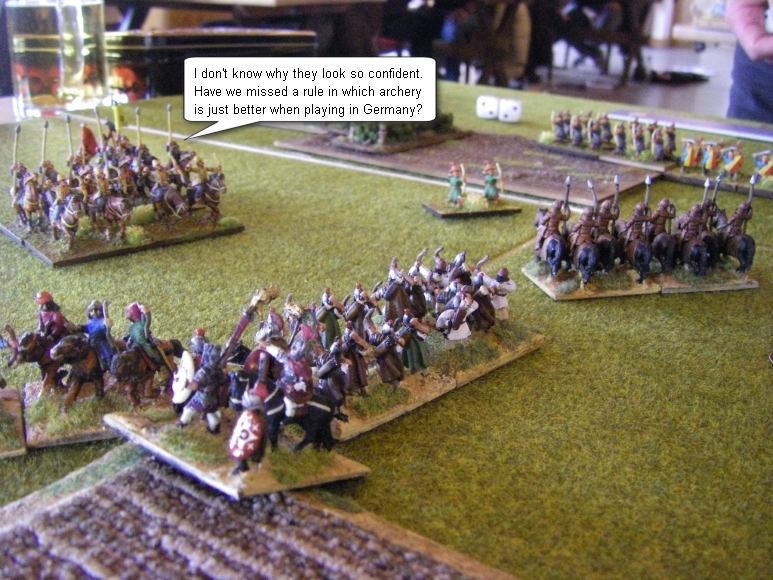 Sadly, the heavy almost-all-over lamellar armour of the Xia-ist mounted nobles had not impeded their vision sufficiently to result in them failing to spot that the Romanized defenders were in fact just a handful of highly vulnerable infantry bowmen, with little more to defend themselves than a faint miasma of last night's schitzel-generated flatulence emanating gently from the table edge behind the.
The eastern cavalry warriors stormed forward at pace, expecting an easy victory as long as they could get through the storm of half-hearted arrows coming their way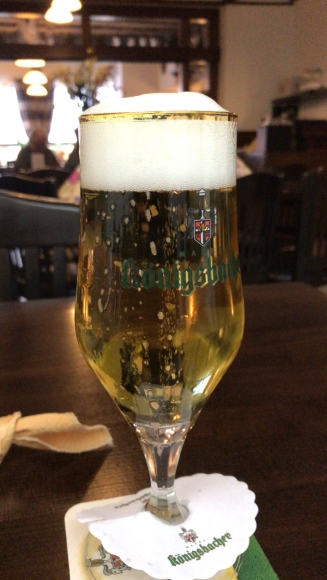 Here's a picture of a beer, for no real reason other than pictures of beer are good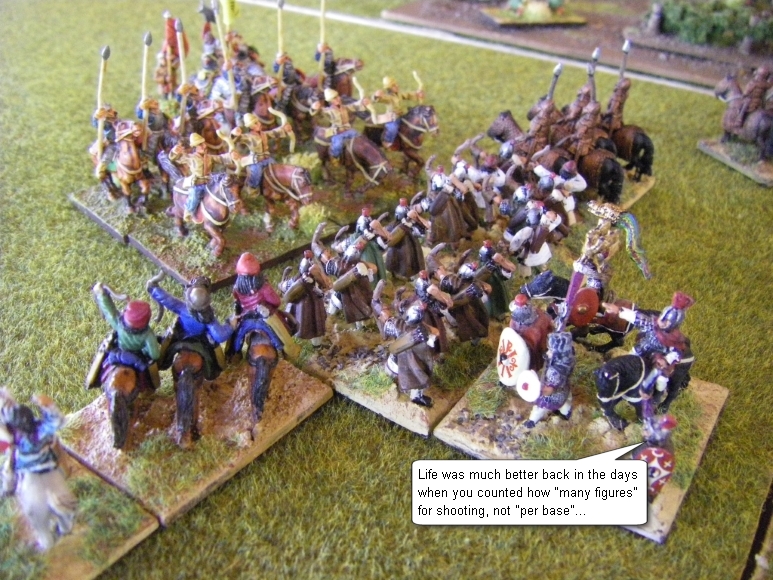 The Xi-ites raced forward at a brisk trot, closing the gap on the enemy bowmen at a pace which suggested strongly that olfactory excellence was not something that had been trained into them at a young age
Palmyra's Not Quite Finest had little answer to this bold assault, save from firing furiously and doing their very best to get shoulder to shoulder with their collegiate Cataphracts and Medium Cavalry to try and survive the seemingly inevitable incoming cavalry charge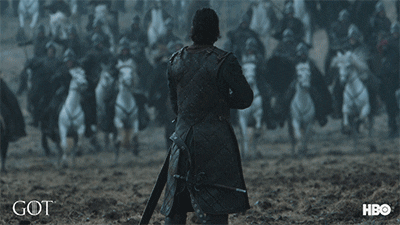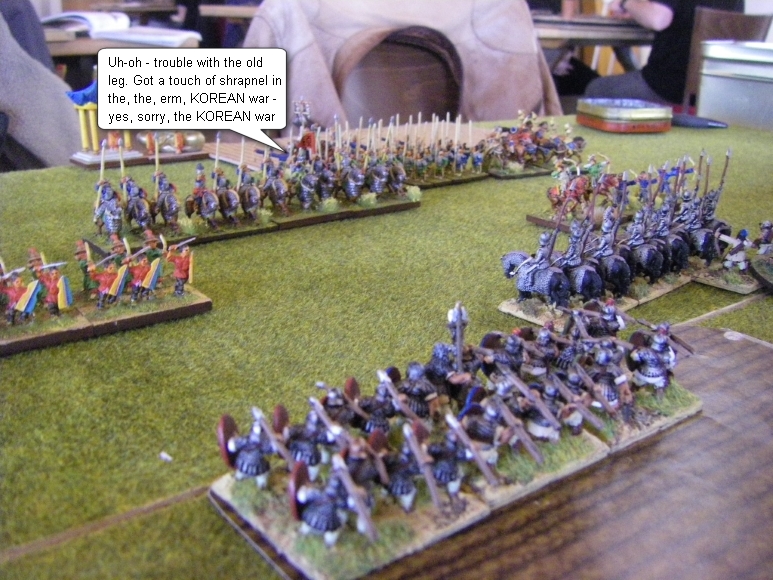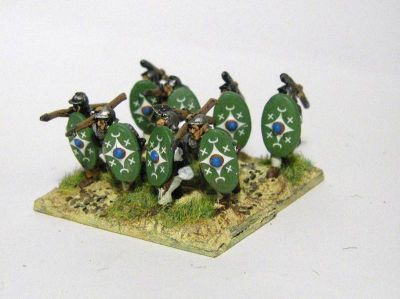 Finally though, rendering the previous action all but an inconsequential side show, the main hammer-flattened, batter-coated schitzel of war that was to be the main engagement of the conflict was now looming ever closer.
Kraftwerk! Auxiliaries girded their almost-Roman loins in preparartion for an impactful charge against the Xia Mixed Shooters while cataphracts got ready to take on lancers in mano-a-mano combat (with added horseflesh - possibly genetically related to one of the many schitzel-based options on last night's menu)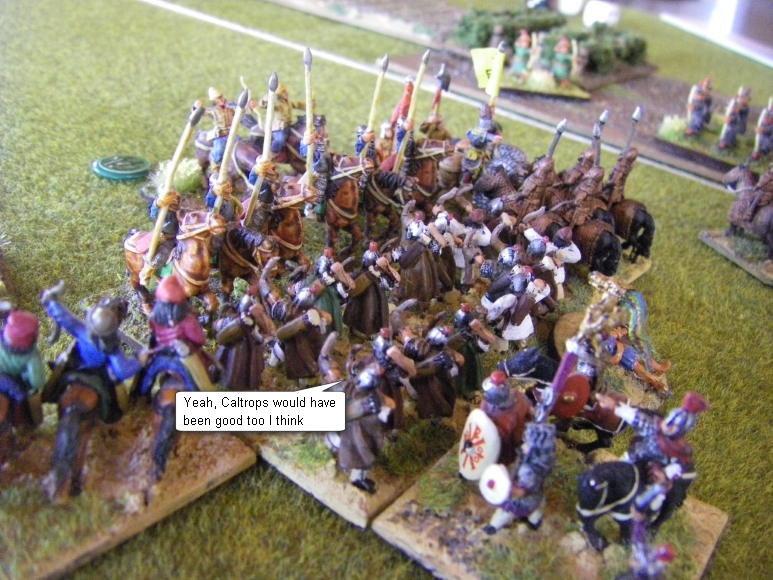 Sorry, couldn't resist swinging back to the excitement that was already happening!
The Bowmen were so far standing relatively firm against the Assault from the East, and Palmyran mounted archers were working their way around the end of the Xia Xia formation hoping their unarmed shooting infantry buddies could hold out long enough to buy them time to swing onto the enemy flanks in devastating fashion
German Translation: "Schiessendurchfantasievolletanzbewegungensieg"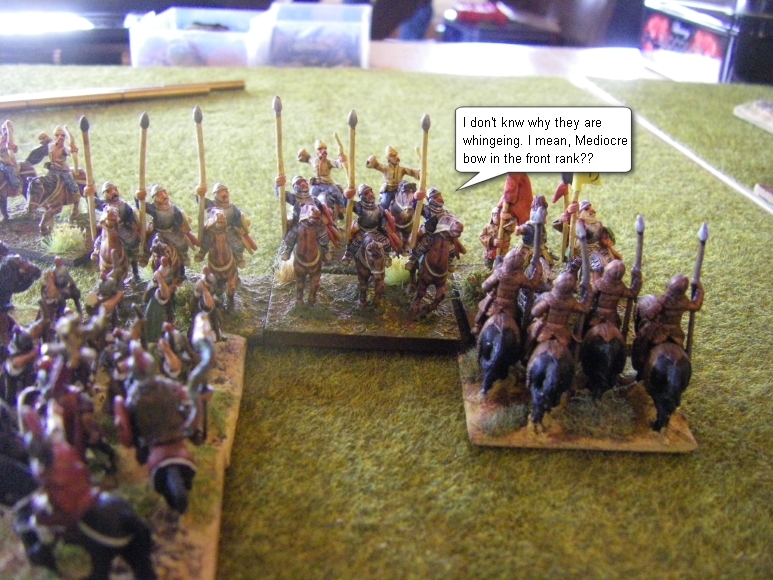 OK, maybe not.
The sub-par Mediocre component of the infantry archer block was removed from table in an almost inevitable fashion as the Xiaits powered forward at pace.
Vorsprung durch Technik!
A gaping hole had opened in this supposed defensive bulwark, and a widening collapse here would expose the entire left flank of the Palmyran army to a sweeping cavalry assault from the fast-moving lance-carrying nobility and their dastardly and entirely predictable tactical innovations.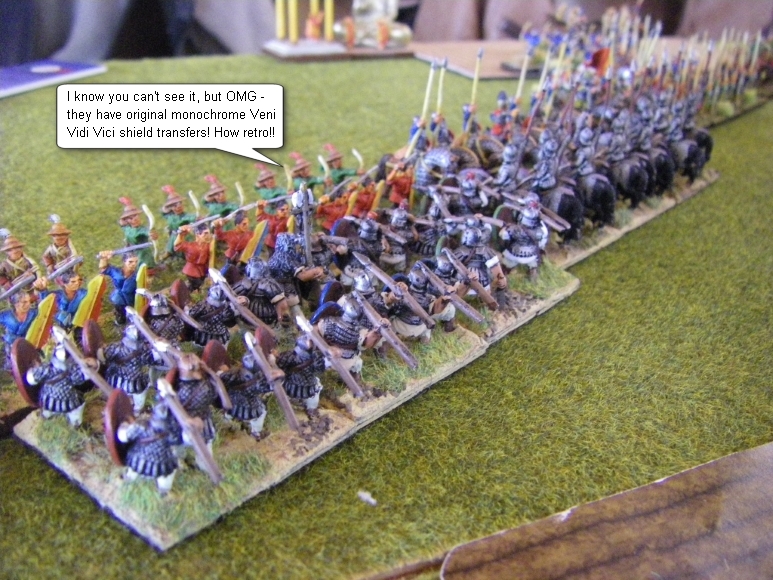 Back to the Schnitzelkombat - in that everything was involved, and everyone was getting lightly battered!
Steel from Italy clashed with Iron from Mongolia, wood from olive trees grown the shores of the Mediterranean clashed with another sort of wood almost certainly hewn from a tree that only grows in China (probably) and sweat and sinew (probably another schnitzel-ingredient option from last night) strained on both sides as the table shook with haphazardly deplyed military metaphors in a broad line of battle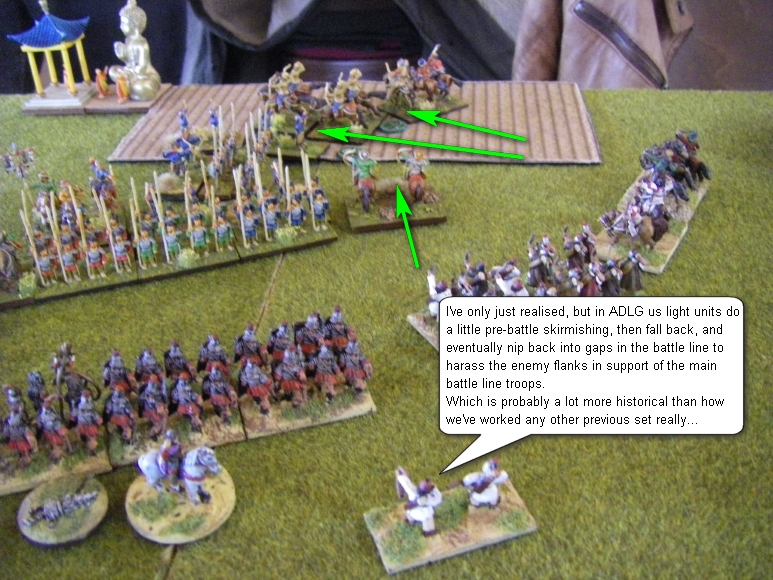 The Palmyran's own right wing had by now shepherded the Xia light horse screen back safely behind its line of infantry
Schwarzbrot! The rather miffed polearm chaps grumbled under their breath as they realised that yet again there would be no cavalry for them to fight as the pseudo-Legions marched forward to assault them.
The continued irritating pinging of the bolt shooter on a cart was also not exactly adding to the bonhomie of the Xia infantry corps as their day started to resemble the life expriences of a man searching for a sausage shop in the narrow and convoluted backstreets of a medieval German old town - in that it was too about to take a turn for the wurst.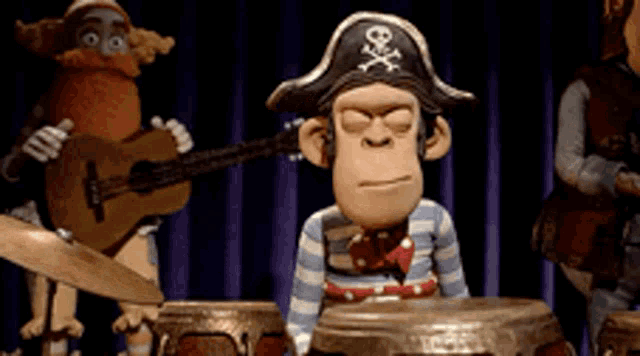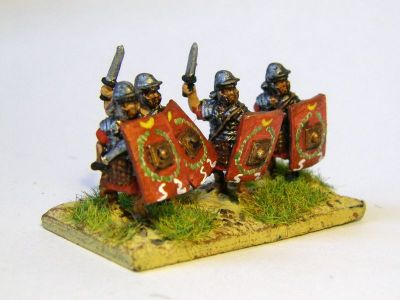 Take me to Oktoberfest and dunk me in a Stein! Despite being Elite, the Palmyran Cataphracts were getting by far the rough end of the stick in this one on one battle against the horsemen from the high steppes of Xiaistanitania.
Markers sprouted like flowers in the Jordanian desert as the two huge blocks of horsemen slammed together at pace, an outcome only mitigated by the immediate success of the Auxilia in sweeping away a key anchorpoint of Xia mixed shooters that connected their foot and infantry components.
German Translation: "Pferdscheiternfussgangererfolg"
Echt?, Oho! The Auxilaries were immediately on their game, swinging round and hammering into the flank of the Xia cavalry
The Xia in reply redoubled their efforts to escape this trap by blasting their way straight through the middle of the Palmyran line!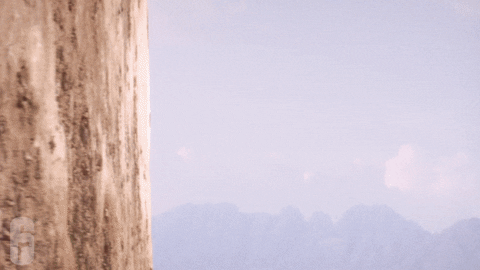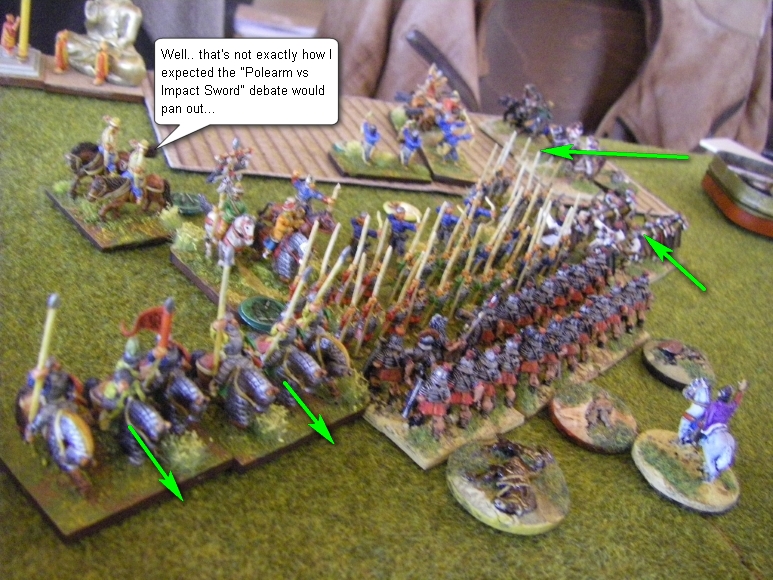 This was not going to plan at all, as the cataphracts stumbled and fell in mortal combat against the more lightly-equipped high plains horse nomad's finest men.
The almost-Legions were also finding life difficult as they too picked up more markers than they believed they deserved against the resolute wall of eastern sticks with hooks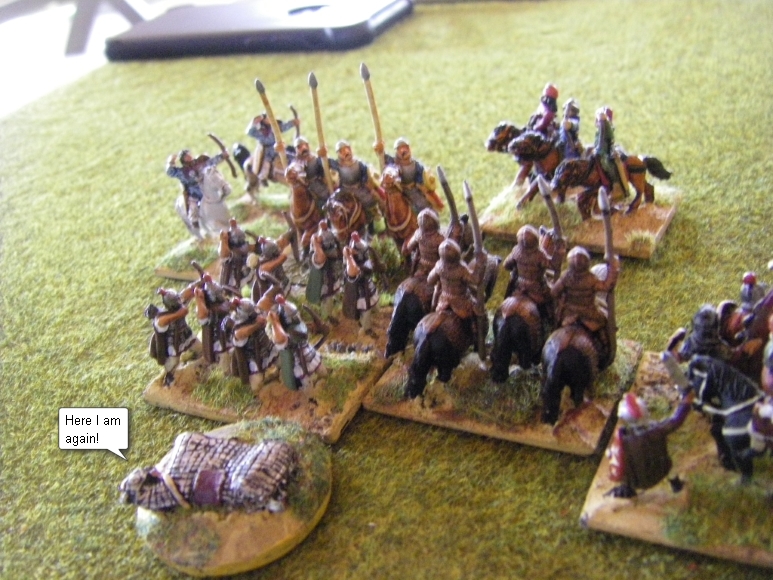 Bizzarrely perhaps, the Xia flanking force was starting to collapse at a rate of knots, as Palmyra's professional archery class had proved a chopping block onto which the Xia cavalry now realised that it had unwittingly placed some it its more delicate appendages.
Verdammt nochmal ! Attacked from all sides the Xia horsemen fell like the first rains of the decade on the Mongolian steppe, while nearby the Auxilia carved a similarly decisive path through the mixed shooters with ease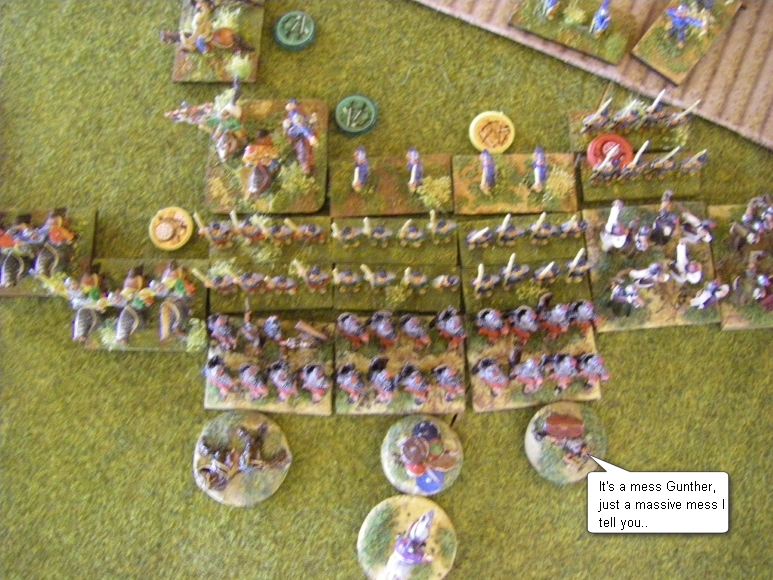 Finally, with both sides close to exhaustion in the aftermath of a brutal toe-to-toe melee lasting long enough to justify two coffee runs (and one wee break), the Palmyrans just edged it by losing slightly less men and horses than the Chinese Dynastics - the Result is a narrow and brutal win for Palmyra !
Click here for the report of the next game in this competition, or read on for the post match summaries from the Generals involved, as well as another episode of legendary expert analysis from Hannibal
Post Match Summary from the Palmyran Commander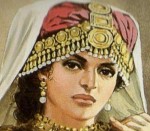 I always tell all of my commanders to think like a queen. A queen is not afraid to fail. Failure is simply another stepping stone to greatness - and in this battle our short term failure to anticipate the enemy army composition lead in the end to the inevitable greatness of my victory, which I claim for all women everywhere!
I have chosen to no longer be apologetic for my femaleness and my femininity. And I want to be respected in all of my femaleness because I deserve to be - and the opposing army now knows that it needs to give me respect, for grinding them under my feminine boot-heels.
Thereís something so special about a woman who dominates in a manís world. It takes a certain grace, strength, intelligence, fearlessness, and the nerve to never take no for an answer. Luckily my troops have learnt this from me, and it allowed them to hold fast on my left wing and push forward elsewhere to grind out a success
I am still a queen; and as long as I live I will reign!
---
Hannibal's Post Match Analysis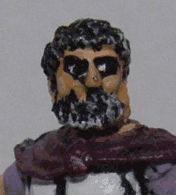 Victory through greatness? What else can one say here, except that these ideas originate in your own wanton concoctions, or in a drunken dream?
You do not so much explain your strategy, but instead seek to distract with curses, blasphemy, skrieks, bellows and spit, so that, if people really heard you utter relevant words, they would gather with chains and bars, just as if you were possessed by a legion of devils and had to be seized and bound. Here your fellow commanders regular disaster of failing to recce your opponents army almost did you down, and you should be grateful to have escaped at all, never so much with a win
For this you deserve to have your Gods deprive you of their blessings, and once again allow preachers of lies to arise who lead you and your half-assed Empire to the devil - and wring sweat and blood out of you besides. You failed to work out where to attack and where to defend until your bold opponent forced it upon you, and so being led by the nose to victory is barely something to savour
You silly, feeble she-devil who thinks no one sees it. No, my tender comrade, we see you well enough. You haven't used enough make-up; you need more and other colors to hide the paucity of your skills in this battle and perhaps even more coverage if you are to survive the next game
Click here for the report of the next game in this competition
You may also like....
Game 1 Palmyran vs Bedouin Dynasties
Game 3 Palmyran vs Thematic Byzantine
Game 4 Palmyran vs Han Chinese
Game 5 Palmyran vs Nikephorian Byzantine
Driving home via Bastogne and Namur
View My Stats for My Match Reports Pages