FoG Game 3
So, 2 games down, a win and a defeat, and all was starting to come together. The Crusaders had proved resilient, I felt I was close to learning how to command the knights effectively, and I'd gotten some good "real world" type tactics to work by enveloping the Dailami.
What could possible go wrong ?
Game 3 and I faced Ottomans in the hands of the much-played Pete Dalby
Why not get in the mood by playing this song about Janissaries as you read on?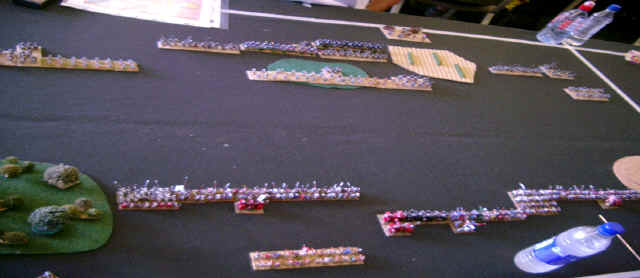 The terrain was fairly open, with a wood protecting my left, and a hill on my right - and knowing the correct rules for counting "uphill" I felt confident this could work out OK.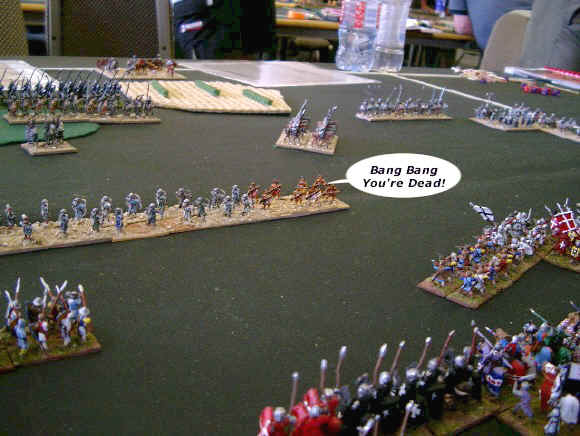 Pete started by cheating, by moving forward troops I had no idea what they were or what they were capable of!
They turned out to be handgunners, but hey, they were still peasants, so I could hopefully sweep them from the field - without committing my knights, who were liable to hare off and try and charge them without order should they get too temptingly close.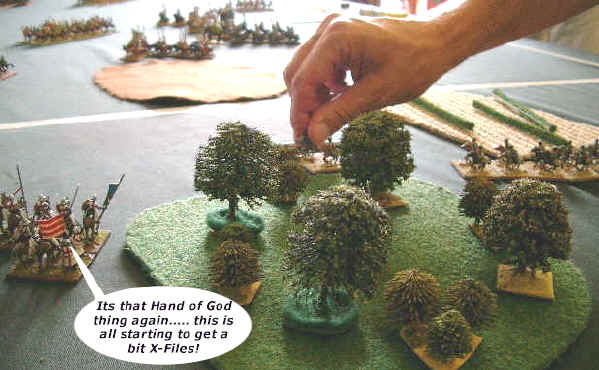 The sneaky Ottomans also attempted to sneak a couple of units of light horse round my flank, so I despatched the Turcopoles, fresh from their victory in the previous game, to hold them up whilst my center advanced.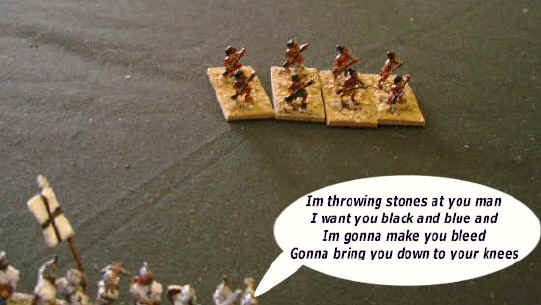 Looking for all the world like a Stone Roses tribute band sneaking out of a bad gig at the hacienda, the poor quality Ottoman handgunners suffered disruptive casualties and attempted to sneak away out of range of my crossbowmen.
The table was clearing !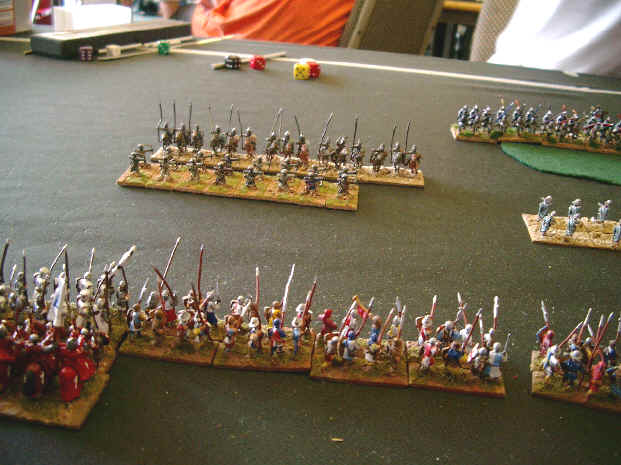 The Ottomans were however undaunted, and fed in more peasant archers from their flank. They were obviously confident my Turcopoles were unlikely to sweep to victory in this game!
The Turcopoles attempted to expand out into a full line, but had got too close to the woods, so only got a partially effective shot in at the vulnerable Ottomans who were still in column and would suffer from badly shooting as a result.
On my left an interesting matchup was developing, as my spearmen pushed cautiously forward against a gradually receding tide of Ottoman cavalry shooting. My crossbows were feeling fairly secure on their hill, although the Ottomans were moving up a small unit of Ghazi impact swordsmen, who we didn't like the look of at all.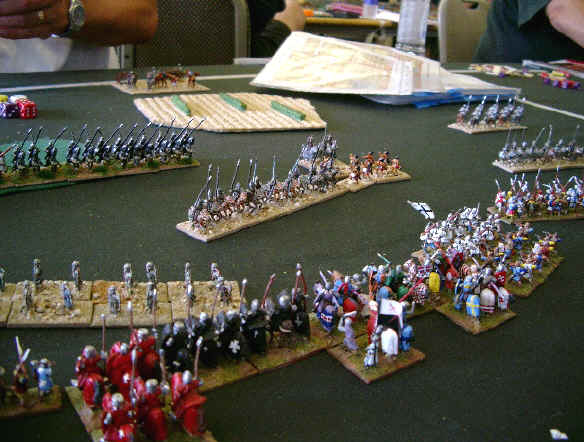 In the middle the knights had decided they were needed to avoid leaving a large hole in my line and were pressurizing the Ottoman peasant bowmen whilst the enemy knight, the creme of Serbian Chivalry, stood transfixed, still trying to clear their way out of a patch of rough ground but finding themselves with little room for maneuver if they dared emerge.
My spearmen edged forward, hoping to tempt the rash Ghazis into an unwise charge against their shieldwall, whilst the crossbowmen continued to trade fore with light horse.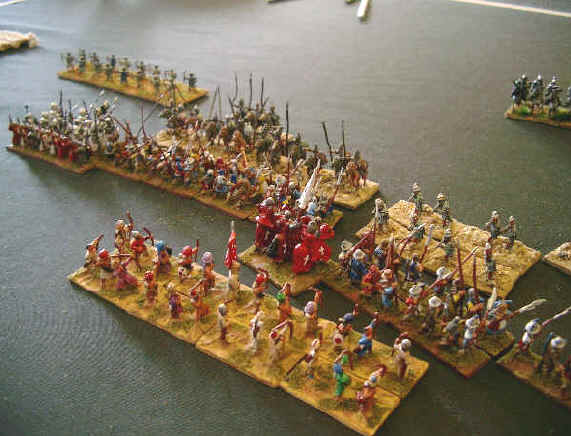 On my left the Crusaders had passed the wood and appeared to be knocking at an open door, with only a handful of skirmishing troops in front of them. There was even a chance the spearmen may catch the Ottoman Mamluks if they got in a successful charge!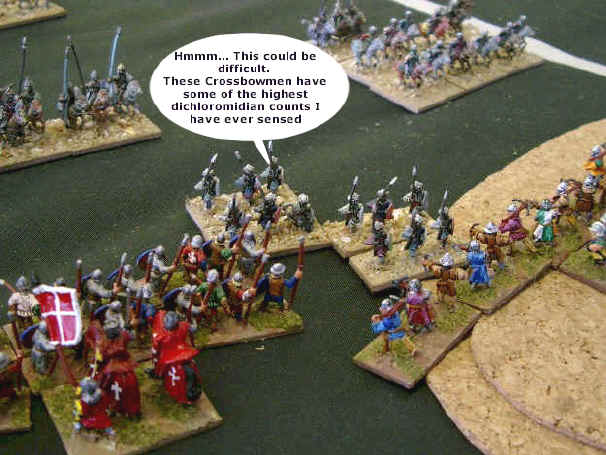 On the left however, things had started to happen - and fast. The Ghazis had charged in and battered my spearmen, however they had also rashly attacked my crossbow formation, and were starting to crumble under sheer weight of numbers.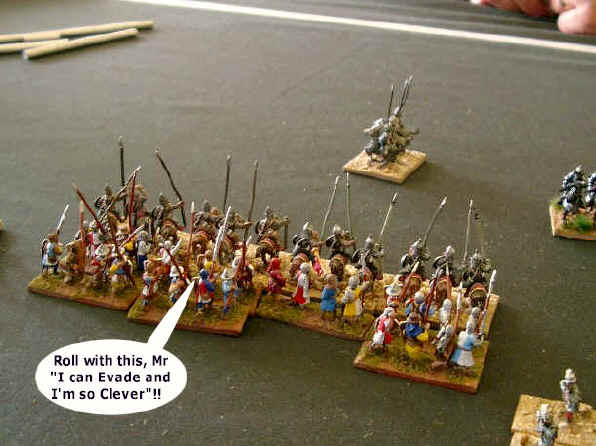 The Spearmen proved fleet of foot, and the Mamluks caught their hooves in a rabbit hole, and they were caught! A potential disaster for the Ottomans as their right flank now lay open!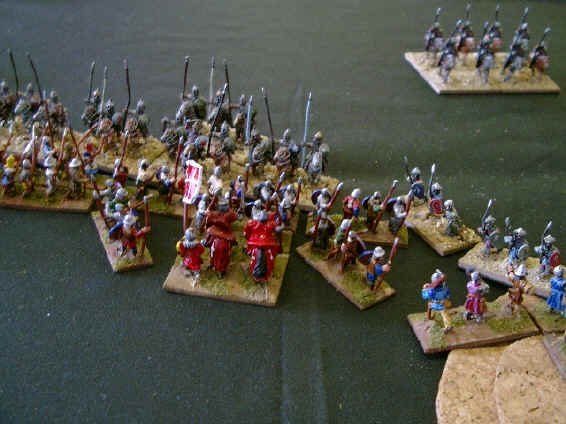 Shifting back quickly to my left, the Ghazis were being whittled away - but the spearmen were also crumbling - this was the moment for the Mamluk revenge, as a charge crashed into the already badly fragmented Crusader battleline!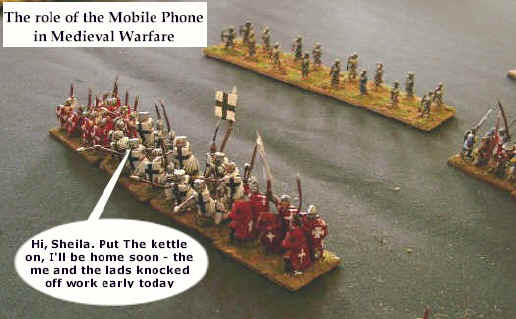 But then on my far left, the unthinkable happened - a unit of spearmen, having taken unusually accurate shooting from the Ottoman bowmen for three consecutive turns decided they didn't fancy playing any more and turned tail and fled! One of my general quickly rushed across to try and bolster their spirits, but the end of my line had suddenly unraveled!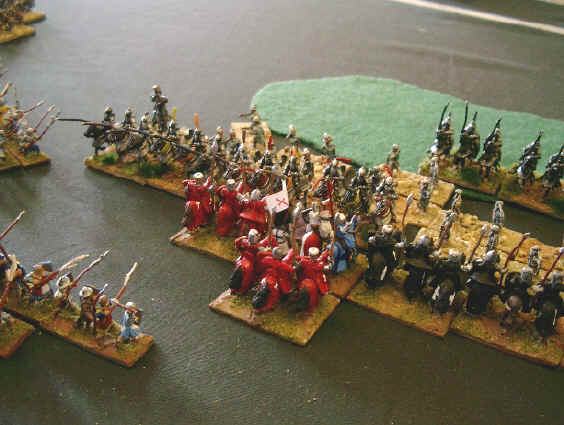 The two lines were now very close - and the Serbs decided they wanted a piece of the action, and charging without orders they broke through their own skirmishers and charged into my Brother Knights!
The Battle was well and truly joined in the centre of the park.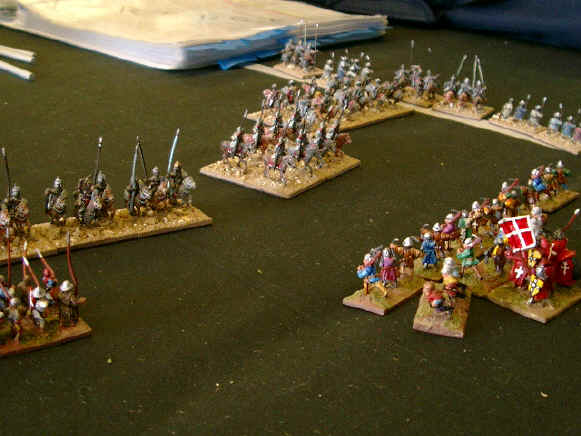 Flipping back to my right, even in the act of beating my spearmen, the Ghazis had broken - being a small formation the casualties they suffered also caused them to break - and my victorious crossbowmen decided to pursued and destroyed them ..... running off their protective hill in the process! Could my general steady them before the inevitable countercharge came in ?
By now it was kitchen sink time, as everyone threw everything in in a desperate attempt to gain the upper hand.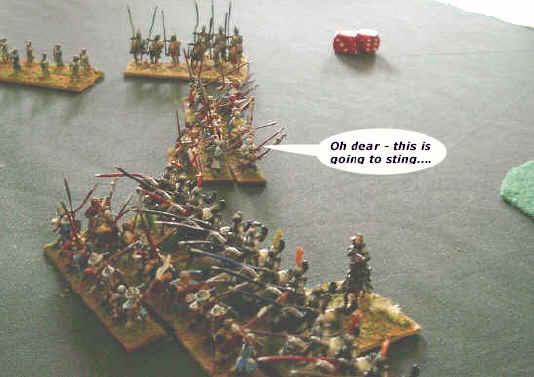 But my Brother Knights spectacularly failed to stand up to the Serbian charge, and turned and broke. The victorious Serbs pursued, crashing into an ever-thinning line of spearmen in their pursuit.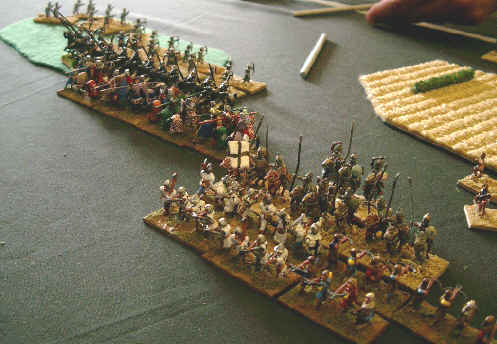 More Mamluks charged in - this time into my badly fragmented bowmen who were ruing the day they came down from their hill - and drove them from the field in disarray. Suddenly the Feudal Knights were looking isolated !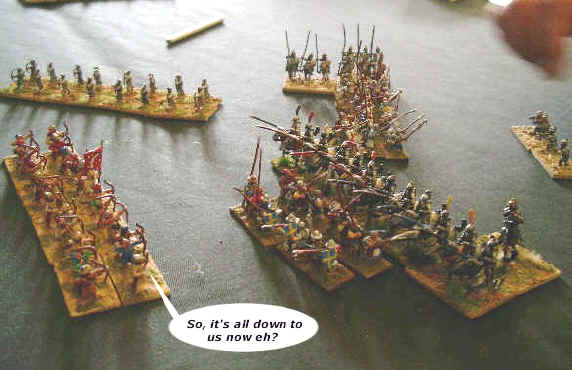 The Serbs crashed onwards, and my spear formation buckled and broke. Adding insult to injury, my final spear unit was charged in the flank my the remnants of the Mamluk unit they had caught in the rear and routed earlier, which had subsequently been persuaded to come back by a Ottoman General.
With the loss of two spear units plus the Brother Knights and Crossbowmen in combat, and the failure of my general to persuade the other routing spearmen to return, my tiny army was beaten. An intense battle, but one where I had ended up coming close, but only getting the sort of very small cigar you can trade in for one broken Ghazi unit !
Post Match Analysis
This really was a game where my army choice started to show its flaws. With very few units and a nearly all infantry army I was unable to fill the table, my opponent was able to choose where to attack and with what, and I also was vulnerable to a couple of extreme results (with an army breaking when half its units break). But the real killer was having only 3 generals, which meant that with lots of combat taking place, I simply had too little command and control on table to lead the vital charges AND bolster morale when my troops started to waver - whether this was due to shooting or poor combat results.
Having my bowmen pursue off the safety of their hill was also a significant blow, and the rules development team swooped in to analyze the situation for "realism" and impact on game mechanics - expect to see some changes in this rule by the time the finished article arrives!
UK Bookshop
and
US Bookshop
- Order the FoG books about the Ottomans NOW and save ₤₤₤ (or $$$) !!
The Ancient Army List Index
Historical background notes, external links, 15mm supplier listings, FoG army lists, and a list of books about these armies
The Rise of Rome (280 BC to 25 BC) Mid Republican Roman ; Late Republican Roman ; Gallic ; Pyrrhic ; Later Carthaginian ; Ancient Spanish ; Later Macedonian ; Later Seleucid ; Later Ptolemaic ; Attalid Pergamene ; Numidian or early Moorish ; Pontic ; Early Armenian ; Parthian ; Later Jewish ; Illyrian ; Spartacus Slave Revolt ; Bosporan ;
Storm of Arrows - Western Europe in the Later Middle Ages (1300 AD to 1500 AD) Medieval French ; 100-yrs War English (Continental) ; 100-yrs War English (Britain) ; Later Medieval Scots ( Britain) ; Later Medieval Scots (Continental) ; Later Scots Isles & Highlands ; Medieval Welsh ; Later Anglo-Irish ; Medieval Irish ; Low Countries ; Later Medieval German ; Italian Condotta ; Swiss ; Free Company ; Medieval Burgundian ; Medieval Danish ; Medieval Swedish ; Medieval Castilian ; Medieval Crown of Aragon ; Medieval Portugese ; Later Granadine ; Navarrese ; Ordonnance French ; Wars of the Roses English ; Ordonnance Burgundian ; Santa Hermandad Nueva Castilian
Immortal Fire - The Greek, Persian & Macedonian Wars (550 BC - 146 BC)
Classical Greek ; Early Achaemenid Persian ; Lydian ; Thracian ; Syracusan ; Early Carthaginian ; Skythian or Saka ; Kyrenean Greek ; Late Dynastic Egyptian ; Alexandrian Macedonian ; Later Achaemenid Persian ; Classical Indian ; Early Successor ; Early Sarmatian ; Galatian ; Hellenistic Greek ; Graeco-Bactrian ; Graeco-Indian ; Indo-Greek :
Legions Triumphant - Imperial Rome (25 BC to 493 AD) Dominate Roman ; Principate Roman ; Foederate Roman ; Later Sarmatian ; Early German ; Dacian or Carpi ; Ancient British ; Caledonian ; Early Alan ; Jewish Revolt ; Sassanid Persian ; Kushan or Indo-Skythian ; Palmyran ; Early Frankish, Alamanni, Burgundi, Limigantes, Rugian, Suevi or Turcilingi ; Western Hunnic ; Early Visigothic & Early Vandal ; Early Ostrogothic, Herul, Sciri or Taifali ; Early Anglo-Saxon, Bavarian, Frisian, Old Saxon or Thuringian ; Gepid or Early Lombard ; Early Scots Irish ; Early Pictish ; Hephthalite Hunnic ;
Swords & Scimitars - The Crusades (1096 AD to 1311 AD) Early Crusader ; Later Crusader ; Fatimid Egyptian ; Georgian ; Seljuk Turk ; Cuman ; Komnenan Byzantine ; Post Latin Conquest Byzantine ; Ilkhanid Mongol ; Mamluk Egyptian ; Cilician Armenian ; Syrian States ; Khwarazmian ; Ayyubid Egyptian ; Middle Serbian ; Middle Bulgarian ; Medieval Cypriot ; Latin Greece ; Pecheneg ;
Eternal Empire - Eastern Europe and the Rise of the Ottomans (1300 AD to 1500 AD) Early Ottoman Turkish ; Later Ottoman Turkish ; Tatar ; Later Russian ; Later Serbian Empire ; Later Bulgarian ; Later Lithuanian ; Later Polish ; Later Teutonic Knights ; Catalan Company ; Middle Hungarian ; Moldavian or Wallachian ; Albanian ; Timurid, White Sheep Turcoman or Black Sheep Turcoman ; Later Hungarian ; Hussite ;
Decline & Fall - Byzantium and Islam (493 AD to 1071 AD) Early Byzantine; Maurikian Byzantine ; Thematic Byzantine ; Nikephorian Byzantine ; Later Moorish ; Later Visigothic ; African Vandal ; Italian Ostrogothic ; Early South Slav ; Lombard ; Avar ; Arab Conquest ; Early Bulgar ; Ummayad Arab ; Abbasid Arab ; Early North African Dynasties ; Khurasanian Dynasties ; Bedouin Dynasties ; Dailami Dynasties ; Pecheneg ; Ghaznavid ; Western Turkish (includes Khazar);
Wolves From The Sea - The Hairy European Dark Ages Post Roman British ; Early Welsh ; Later Scots Irish ; Merovingian Frankish ; Later Pictish ; Early Slavic ; Middle Anglo Saxon ; Astur Leonese ; Andalusian ; Early Navarrese ; Carolingian Frankish ; Viking ; Magyar ; Great Moravian ; Early Scots ; Rus ; Norse Irish ; Early Medieval French ; Early Medieval German ; Norman ; Early Polish ; Anglo Danish ;
Swifter Than Eagles - The Biblical Book Nubian ; Early Libyan ; Later Sumerian or Akkadian ; Early Nomad Allies ; Old or Middle Kingdom Egyptian ; Hyksos ; Mitanni ; Syro-Canaanite ; New Kingdom Egyptian ; Later Minoan or Early Mycenaean ; Hittite Empire ; ; Middle or Early Neo-Assyrian ; Later Mycenaean or Trojan ; Sea Peoples ; Philistine ; Phoenician Allies ; Neo-Hittite And Aramaean ; Later Hebrew ; Mannaean Allies ; Libyan Egyptian ; Urartian ; Median ; Neo-Elamite ; Proto-Arab Allies ; Cimmerian or Early Skythian ; Neo-Assyrian Empire ; Phrygian Allies ; Kushite Egyptian ; Neo-Babylonian Empire ;
Oaf of Fealty - Early Medieval Europe Feudal Catalan and Early Crown Of Aragon ; Early Hungarian ; Taifa Andalusian ; Feudal Navarrese and Aragonese ; Feudal Castilian Leonese or Portuguese ; Fanatic Berber ; Italo-Norman ; Feudal French ; Imperial German ; Feudal German ; Communal Italian ; Papal Italian ; Early Scots Isles And Highlands ; Feudal Scots ; Early Russian ; Feudal Polish ; Anglo-Norman ; Later Welsh ; Early Lithuanian or Samogitian ; Wendish Prussian or Estonian ; Early Medieval Frisia and Other Free Cantons ; Post-Viking Scandinavian ; Early Plantagenet English ; Later Sicilian ; Early Medieval Irish ; Early Anglo-Irish ; Early Teutonic Knights ; Mongol Invasion ; Early Granadine ; Middle Plantagenet English ;
Empires of The Dragon - China, Korea and Japan Erlitou-Shang Chinese ; Early Northern Barbarian Allies ; Early Zhou Chinese ; Yayoi Japanese ; Early Horse Nomad ; Ko Choson Korean ; Warring States To Western Han Chinese ; Qiang And Di ; Three Kingdoms Korean ; Eastern Han Chinese? ; Three Kingdoms W Jin And S Dynasties Chinese ; Kofun Nara Japanese ; Northern Dynasties Chinese ; Later Hindu North Indian ; Later Hindu South Indian ; Central Asian City States ; Western Wei To Early Tang Chinese ; ; Later Horse Nomad ; Tibetan ; Nepalese Allies ; Parhae Korean ; Late Tang To Five Dynasties Chinese ; Khmer Or Champa ; Thai Allies ; Nanzhao ; Pyu Burmese Allies ; Koryo Korean ; Early Heian Japanese ; Pagan Burmese ; Liao ; Song Chinese ; Xi Xia ; Ghurid Afghan ; Jin ; Late Heian To Muromachi Japanese ; Japanese Warrior Monk Allies ; Mongol Conquest ; Moslem Indian Sultanates ; Medieval Indonesian Or Malay ; Yuan Chinese ; Medieval Burmese ; Ming Chinese ; Yi Korean
Blood and Gold - The Americas Olmec ; Teotihuacan ; West Mexican ; Zapotec or Mixtec ; Toltec ; Chinantec ; Aztec ; Tarascan ; Tlaxcalan Confederacy ; Mayan ; Mochica ; Chanca ; Chimu ; Hatun-Colla ; Canari ; Inca ; Mapuche or Araucanian ; Amazonian Forest Tribes ; Tupi ; Chichimec ; Pueblo Culture ; Mound-Builder Culture ; South-Eastern Woodland Culture ; Timucuan ; Eastern Woodland Culture ; Plains Culture ; Pacific North-West Culture
View My Stats