BHGS Open 2004
I took Later Carthaginian - basically because I am locked into a desperate and vain attempt to make Wb (F) trendy again, and having run them in 400ap loose and tightly themed competitions I though it was worth trying them out in an open period.
It also has a good record of decisive results for me - played 10, won 7 by a knockout, won the other 8-2 and half an (I) element off a 10-0, lost 2 through a combination of bad luck and sheer incompetence. So, my theory was if I had a good day I might win 4 games and lose 1, ending up on enough points to do really well indeed....
My two lists were essentially the same as those I used at Britcon 03 and Warfare 03.
Game 1 vs Carolingians
Not really how I wanted to start - a regular knight army :-( It was >like this
At least I attacked, and the table set up with my warband (and elephant) command facing off some knights, my spears driving down the middle against some more Kn and my cavalry command and Numidian ally chasing a smaller block of knights and the rarely deployed "Left Hand Of The Steve (O)".
All the Carolingians were set out in depressing pseudo-Patrician columns...
In a rare break with tradition I rushed forwards in a big line...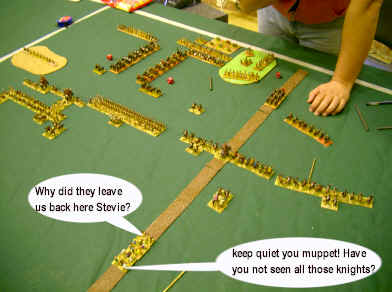 Looking back at this picture, this looks really good, doesn't it? Clearly the Frankish LH on my right were going to get mugged, exposing the flank of the army, who would be paralyzed by the onrushing wall of nastiness and it would soon all be over...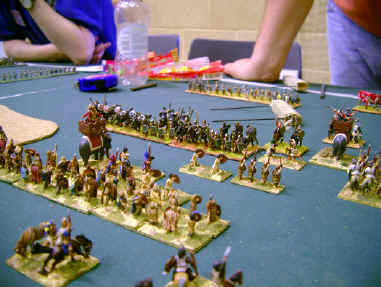 Soon on my left there was a Mexican standoff, which was broken by a knight charge chipping away the end of the spear line.
Then the clever clever little Carolingians started dismounting - which unfortunately coincided with a bout of poor pips and induced a rather over eager attack by the warband on the spearmen who had magically appeared before them.
A lone elephant attempted to break through the line to mug the Carolingian general and put pressure on his pips - but it was to no avail.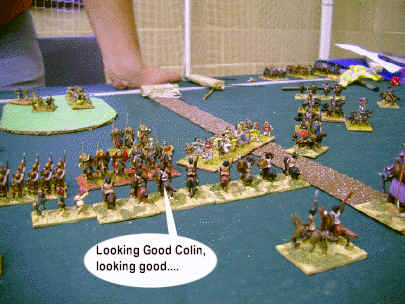 Meanwhile the flank where I had all the advantages was of course turning to despair, as my regular Lithuanian tactic of committing Cv against LH was proving equally successful, and they were making negative progress.
It was all slipping away ....
Somehow from what looked like an initially successful position I managed to lose control of enough the warband to die to knights, and then to lose enough of my LH scrabbling after the small Carolingian command to tip the army over - 0-10.
Game 2 - vs Medieval Germans
The Germans were not exactly delighted to see me at the bottom of the pool in game 2, and even less delighted to see the warband appear as they had wheeled out their anti-elephant list stuffed with Sp (I) and Bw (I) I also attacked, deploying vast swathes of my army after the 3rd (Swiss ally) had gone down for the Germans.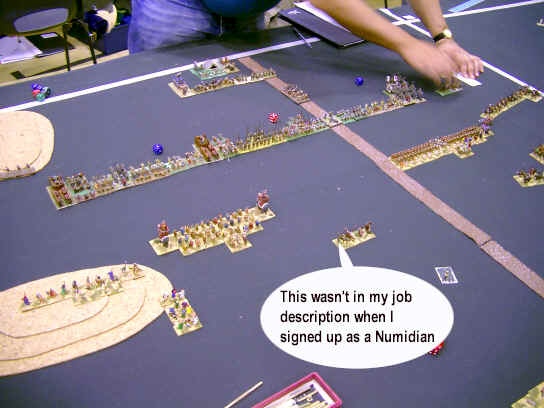 The table looked like this, with regular spears bearing down on the German left, warband on the right and a huge hole with a couple of LH sat in the middle, where the rest of the Numidians from my cavalry command were shortly to appear to make rude North African gestures at the rather "glad they looked harder than the rest of the army" Swiss mercenaries.
My desperate pips were matched by the Germans (it was the last turn before I rolled my 2nd regular dice of more than "3") and it still got very messy very quickly:
On the left: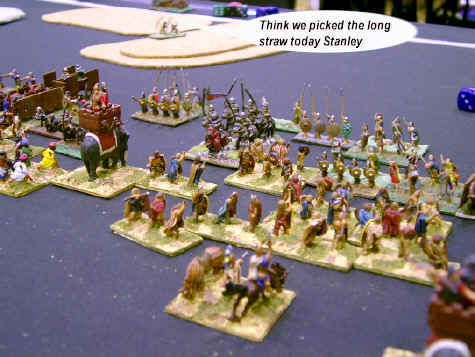 Meanwhile, on the right: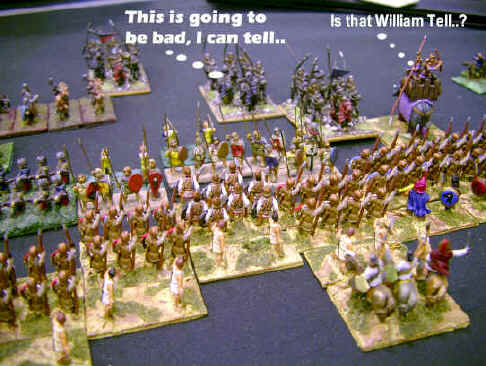 The theory of "take a ridiculous list that no-one in their right mind would take and they'll guess the wrong list to use against me" had worked - 10-0 to the Carthaginians!!
The Ancient Army List Index
Historical background notes, external links, 15mm supplier listings, FoG army lists, and a list of books about these armies
The Rise of Rome (280 BC to 25 BC) Mid Republican Roman ; Late Republican Roman ; Gallic ; Pyrrhic ; Later Carthaginian ; Ancient Spanish ; Later Macedonian ; Later Seleucid ; Later Ptolemaic ; Attalid Pergamene ; Numidian or early Moorish ; Pontic ; Early Armenian ; Parthian ; Later Jewish ; Illyrian ; Spartacus Slave Revolt ; Bosporan ;
Storm of Arrows - Western Europe in the Later Middle Ages (1300 AD to 1500 AD) Medieval French ; 100-yrs War English (Continental) ; 100-yrs War English (Britain) ; Later Medieval Scots ( Britain) ; Later Medieval Scots (Continental) ; Later Scots Isles & Highlands ; Medieval Welsh ; Later Anglo-Irish ; Medieval Irish ; Low Countries ; Later Medieval German ; Italian Condotta ; Swiss ; Free Company ; Medieval Burgundian ; Medieval Danish ; Medieval Swedish ; Medieval Castilian ; Medieval Crown of Aragon ; Medieval Portugese ; Later Granadine ; Navarrese ; Ordonnance French ; Wars of the Roses English ; Ordonnance Burgundian ; Santa Hermandad Nueva Castilian
Immortal Fire - The Greek, Persian & Macedonian Wars (550 BC - 146 BC)
Classical Greek ; Early Achaemenid Persian ; Lydian ; Thracian ; Syracusan ; Early Carthaginian ; Skythian or Saka ; Kyrenean Greek ; Late Dynastic Egyptian ; Alexandrian Macedonian ; Later Achaemenid Persian ; Classical Indian ; Early Successor ; Early Sarmatian ; Galatian ; Hellenistic Greek ; Graeco-Bactrian ; Graeco-Indian ; Indo-Greek :
Legions Triumphant - Imperial Rome (25 BC to 493 AD) Dominate Roman ; Principate Roman ; Foederate Roman ; Later Sarmatian ; Early German ; Dacian or Carpi ; Ancient British ; Caledonian ; Early Alan ; Jewish Revolt ; Sassanid Persian ; Kushan or Indo-Skythian ; Palmyran ; Early Frankish, Alamanni, Burgundi, Limigantes, Rugian, Suevi or Turcilingi ; Western Hunnic ; Early Visigothic & Early Vandal ; Early Ostrogothic, Herul, Sciri or Taifali ; Early Anglo-Saxon, Bavarian, Frisian, Old Saxon or Thuringian ; Gepid or Early Lombard ; Early Scots Irish ; Early Pictish ; Hephthalite Hunnic ;
Swords & Scimitars - The Crusades (1096 AD to 1311 AD) Early Crusader ; Later Crusader ; Fatimid Egyptian ; Georgian ; Seljuk Turk ; Cuman ; Komnenan Byzantine ; Post Latin Conquest Byzantine ; Ilkhanid Mongol ; Mamluk Egyptian ; Cilician Armenian ; Syrian States ; Khwarazmian ; Ayyubid Egyptian ; Middle Serbian ; Middle Bulgarian ; Medieval Cypriot ; Latin Greece ; Pecheneg ;
Eternal Empire - Eastern Europe and the Rise of the Ottomans (1300 AD to 1500 AD) Early Ottoman Turkish ; Later Ottoman Turkish ; Tatar ; Later Russian ; Later Serbian Empire ; Later Bulgarian ; Later Lithuanian ; Later Polish ; Later Teutonic Knights ; Catalan Company ; Middle Hungarian ; Moldavian or Wallachian ; Albanian ; Timurid, White Sheep Turcoman or Black Sheep Turcoman ; Later Hungarian ; Hussite ;
Decline & Fall - Byzantium and Islam (493 AD to 1071 AD) Early Byzantine; Maurikian Byzantine ; Thematic Byzantine ; Nikephorian Byzantine ; Later Moorish ; Later Visigothic ; African Vandal ; Italian Ostrogothic ; Early South Slav ; Lombard ; Avar ; Arab Conquest ; Early Bulgar ; Ummayad Arab ; Abbasid Arab ; Early North African Dynasties ; Khurasanian Dynasties ; Bedouin Dynasties ; Dailami Dynasties ; Pecheneg ; Ghaznavid ; Western Turkish (includes Khazar);
Wolves From The Sea - The Hairy European Dark Ages Post Roman British ; Early Welsh ; Later Scots Irish ; Merovingian Frankish ; Later Pictish ; Early Slavic ; Middle Anglo Saxon ; Astur Leonese ; Andalusian ; Early Navarrese ; Carolingian Frankish ; Viking ; Magyar ; Great Moravian ; Early Scots ; Rus ; Norse Irish ; Early Medieval French ; Early Medieval German ; Norman ; Early Polish ; Anglo Danish ;
Swifter Than Eagles - The Biblical Book Nubian ; Early Libyan ; Later Sumerian or Akkadian ; Early Nomad Allies ; Old or Middle Kingdom Egyptian ; Hyksos ; Mitanni ; Syro-Canaanite ; New Kingdom Egyptian ; Later Minoan or Early Mycenaean ; Hittite Empire ; ; Middle or Early Neo-Assyrian ; Later Mycenaean or Trojan ; Sea Peoples ; Philistine ; Phoenician Allies ; Neo-Hittite And Aramaean ; Later Hebrew ; Mannaean Allies ; Libyan Egyptian ; Urartian ; Median ; Neo-Elamite ; Proto-Arab Allies ; Cimmerian or Early Skythian ; Neo-Assyrian Empire ; Phrygian Allies ; Kushite Egyptian ; Neo-Babylonian Empire ;
Oaf of Fealty - Early Medieval Europe Feudal Catalan and Early Crown Of Aragon ; Early Hungarian ; Taifa Andalusian ; Feudal Navarrese and Aragonese ; Feudal Castilian Leonese or Portuguese ; Fanatic Berber ; Italo-Norman ; Feudal French ; Imperial German ; Feudal German ; Communal Italian ; Papal Italian ; Early Scots Isles And Highlands ; Feudal Scots ; Early Russian ; Feudal Polish ; Anglo-Norman ; Later Welsh ; Early Lithuanian or Samogitian ; Wendish Prussian or Estonian ; Early Medieval Frisia and Other Free Cantons ; Post-Viking Scandinavian ; Early Plantagenet English ; Later Sicilian ; Early Medieval Irish ; Early Anglo-Irish ; Early Teutonic Knights ; Mongol Invasion ; Early Granadine ; Middle Plantagenet English ;
Empires of The Dragon - China, Korea and Japan Erlitou-Shang Chinese ; Early Northern Barbarian Allies ; Early Zhou Chinese ; Yayoi Japanese ; Early Horse Nomad ; Ko Choson Korean ; Warring States To Western Han Chinese ; Qiang And Di ; Three Kingdoms Korean ; Eastern Han Chinese? ; Three Kingdoms W Jin And S Dynasties Chinese ; Kofun Nara Japanese ; Northern Dynasties Chinese ; Later Hindu North Indian ; Later Hindu South Indian ; Central Asian City States ; Western Wei To Early Tang Chinese ; ; Later Horse Nomad ; Tibetan ; Nepalese Allies ; Parhae Korean ; Late Tang To Five Dynasties Chinese ; Khmer Or Champa ; Thai Allies ; Nanzhao ; Pyu Burmese Allies ; Koryo Korean ; Early Heian Japanese ; Pagan Burmese ; Liao ; Song Chinese ; Xi Xia ; Ghurid Afghan ; Jin ; Late Heian To Muromachi Japanese ; Japanese Warrior Monk Allies ; Mongol Conquest ; Moslem Indian Sultanates ; Medieval Indonesian Or Malay ; Yuan Chinese ; Medieval Burmese ; Ming Chinese ; Yi Korean
Blood and Gold - The Americas Olmec ; Teotihuacan ; West Mexican ; Zapotec or Mixtec ; Toltec ; Chinantec ; Aztec ; Tarascan ; Tlaxcalan Confederacy ; Mayan ; Mochica ; Chanca ; Chimu ; Hatun-Colla ; Canari ; Inca ; Mapuche or Araucanian ; Amazonian Forest Tribes ; Tupi ; Chichimec ; Pueblo Culture ; Mound-Builder Culture ; South-Eastern Woodland Culture ; Timucuan ; Eastern Woodland Culture ; Plains Culture ; Pacific North-West Culture