FoG at Britcon 2008
Britcon 2008 - the 2nd year of FoG in Manchester
Having suffered a hideous debacle last year with the Later Crusaders, and a rather poor showing at Ascot with the Carthaginians I had developed a bit of a theory about what sort of army to take.
It needed to be:
Simple
Mostly armoured
able to catch cavalry and light horse
(and sort of made of troops I owned)
Having perused several army list books lightly, and picked up a few comments on the FoG list on the Slitherine site, I settled on Cilician Armenians. Lots of armoured lancer cavalry, not too much else, and a picture in the book shows what looked to me very much like some of my Normans as the main cavalry type.
Several tweaked iterations later, I ended up with this version.
I wanted the aggression to not be too high as I felt moving first was a better option, so the CinC was relegated to the role of TC whilst a FC gave a bit more command range and allowed an option for a flank march as well.
The first 2 blobs of troops to deploy would not give too much away, as they were either skirmishers or troops I really didn't intend fighting with (the spears) unless I could help it.
The Ally gave a little more punch with its 4 knights, and also allowed 2 very small and cheap units to bump up the unit count and act as rear support to the 2 proper spear blocks
8 Armoured & 6 protected spears were preferred to 8 & 8 protected as armoured is a "magic" PoA as it counts against loads of people all the time - and I had just worked out that protected is no use as line of battle troops as a result
This gave me an army that looked like this :
Most of my figures were 2 Dragons Normans, with the Crusaders being Mirliton Communal Italians. The 28mm General was from Magister Militums 28mm ranges.
The List is here
Armenian Bowmen, LF, Unprotected, Average, Undrilled, Bow 6
Armenian Spearmen, HF, Armoured, Average Undrilled defensive spearmen 8
Armenian Spearmen HF Protected Average Undrilled defensive spearmen 6
Crusader spears as above - 6
Armenian Nobles CV Armoured Superior Undrilled Lancer Swordmen - 4
Crusader crossbows MF Uprotected Average Undrilled Crossbow 4
Armenian Bowmen LF as above - 6
Bedouin Cavalry LH Unprotected Average Undrilled Lancer Swordsmen 6
Armenian Nobles as above
Crusader Knights, Kn Armoured Superior Undrilled Lancer Swordmen - 4
Armenian Nobles as above
Armenian Nobles as above
Armenian Nobles ditto
Crusader General TC, Ally general
Armenian CinC, TC-
Armenian Sub TC

Armenian slightly better Sub FC
After a hard day refighting Antietam in 10mm using Fire & Fury (report and pictures here) the Fog competition eventually got underway.
As usual, rules hints and stuff highlighted in blue like this
The first game saw me facing a Free Company army made up of a lot of heavy metal.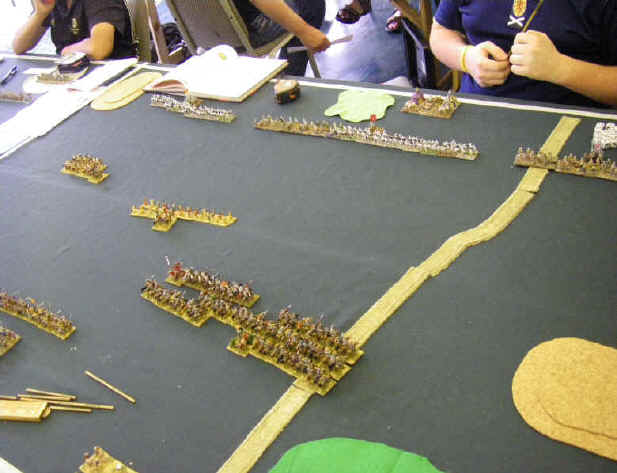 With neither side wanting too much terrain it was a bald battlefield and a simple line up and charge plan from both sides. (I had deployed a road as its basically soaking up a terrain choice and has no real effect on the battlefield)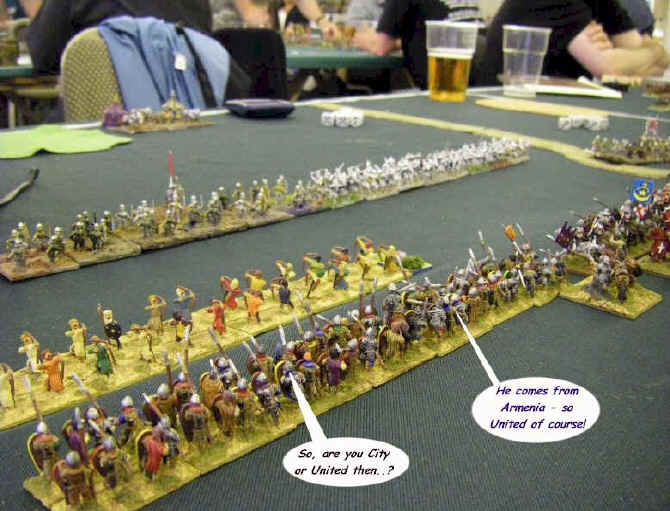 Unusually, my spearmen had a target as I had managed to deploy them opposite a block of bowmen - so as the rest of the army charged forwards, they joined in too. Skirmishers were used as a screen to soak up enemy bowfire and save the main spearmen from taking cohesion tests.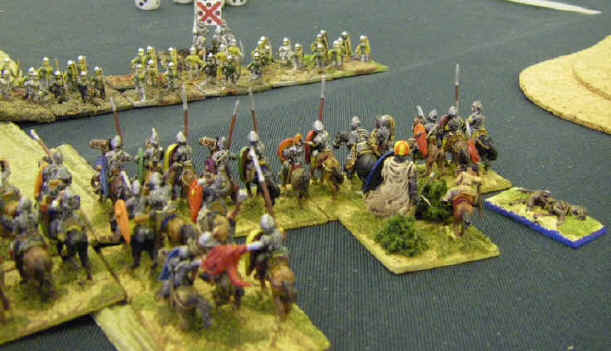 On my right my FC was commanding a thinned out unit of cavalry lancers, who were hoping to absorb the shooting of more longbowmen whilst protecting the flank of my main strike force of cavalry and knights. My generals were massed on the right wing with my many units of cavalry as they would have the hardest fighting to do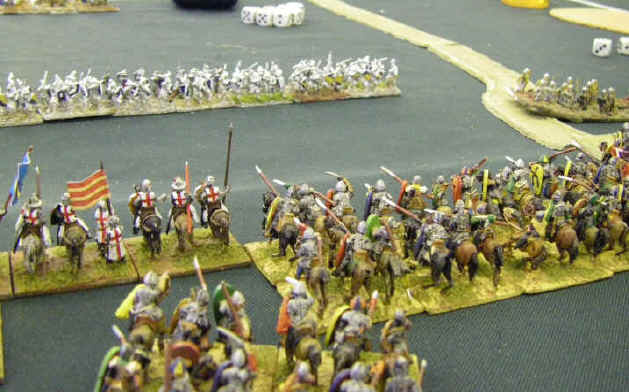 To their left it was a bit less subtle as a wall of double-ranked cavalry and single ranked knights just hared forwards. The only complication was to make sure they all were able to charge at the same time and none of them would suffer from charges being triggered early by the advancing men at arms.
Tests to avoid charging when you don't want to are Complex Move tests - not Cohesion tests. Quite a few people confuse the two. To avoid charging the only modifiers are about commanders being close to/with the unit testing - or being disrupted.
One unit of cavalry stayed behind to provide rear support +1 in cohesion tests as well as a mobile reserve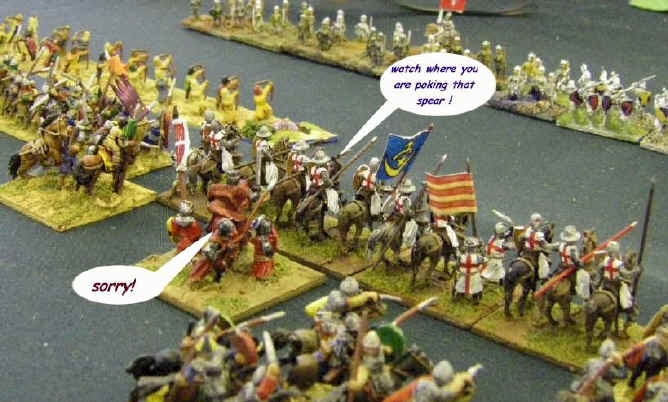 My skirmishers exchanged a few fairly pointless shots with the longbowmen as the knights moved up. The Allied knights always had the benefit of their general - the other 2 units in this command being unlikely to even fight, and not really needing to move twice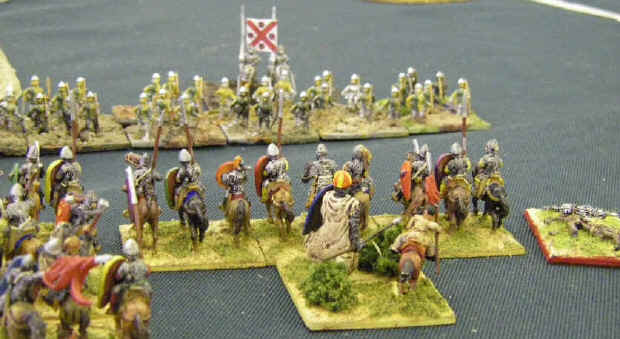 And being led by an imposing a 28mm figure wasn't helping on my right as the flanking cavalry were whittled down to 3 bases and also to Fragmented quite soon. Markers with red edges in my photos mean FRAGMENTED - blue is just DISRUPTED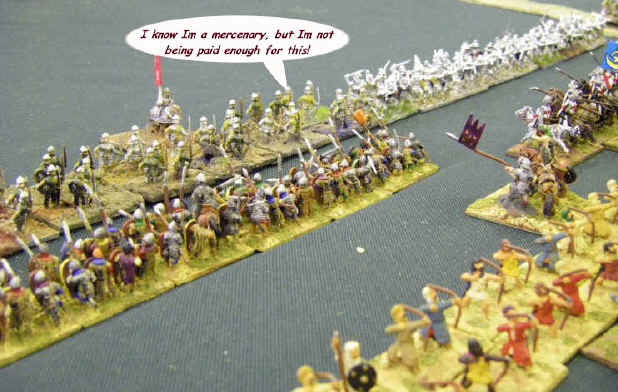 As the skirmishers rushed back, my army closed in for the kill.... Skirmishers move through foot, and then foot move forwards - foot cant go thru skirmishers
Soon disrupted markers were flowering all along the line for the Free Company men at arms. The Free Company markers were figures mounted on bottle tops - 1 for disrupted, 2 for Fragged, 3 for Rout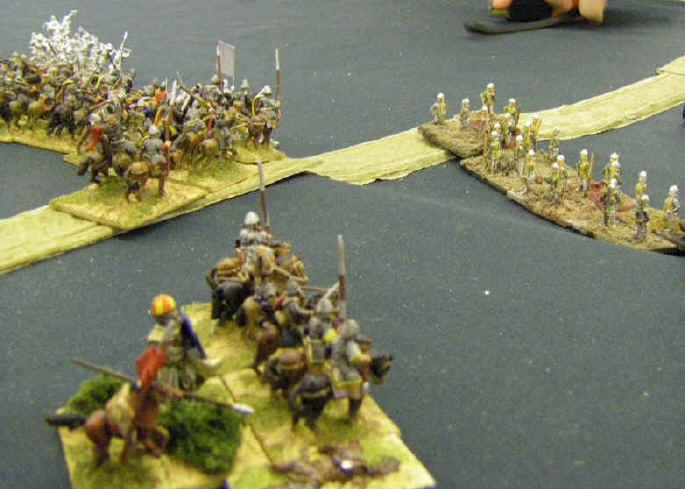 and the FC worked hard to keep the now very battered unit of cavalry in the game.. At 50% losses they were now almost useless as one more loss would see them reomved but they kept the longbowmen honest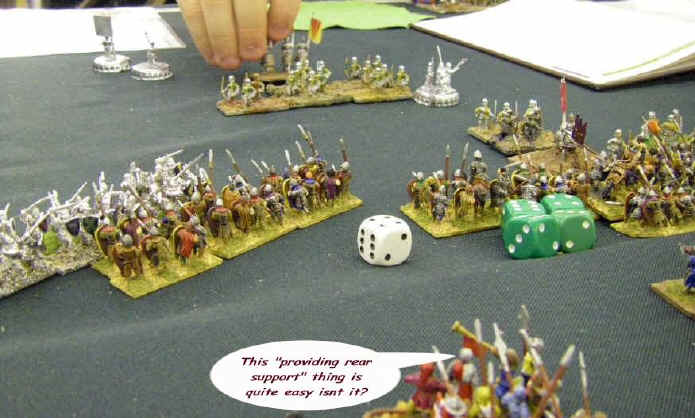 The Free Company longbowmen were unable to stand up for long against the armoured and protected spear formation, and soon most of them crumbled save for one brave unit led by th egeneral who hung on for grim death .. Armoured spearmen were several PoAs up on the longbowmen in melee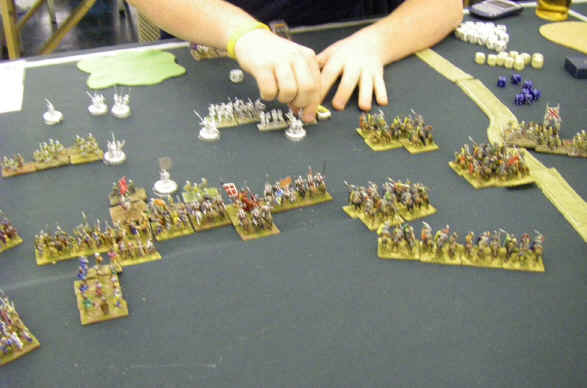 The whole mercenary army was now hanging on by its fingernails, but with both flanks still intact the Armenians were finding it hard to wheel outwards and push home their advantage. As I was to find time and time again, turning undrilled troops is very hard and very slow. Cavalry are a little better than foot, but the difference between passing a CMT on a 7 or an 8 is significant ...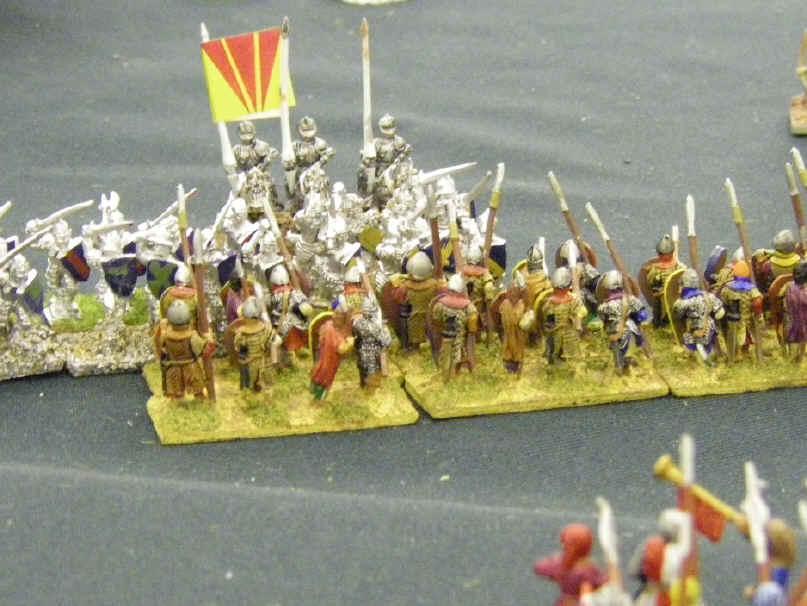 The Armenians were throwing everything into combat ... or the Free Company were eventually getting their flank units into the fray - you choose!
.. but finally the last required Free Company unit was crushed beneath the wheels of the Armenian war machine. (note the column of crossbowmen providing rear support)
By now it was a little too late for a curry, so a dash to the nearest kebab shop for an intravenous injection of chilli sauce later and a few pints of Guinness and it was an early ish night for a change...
Post Match Summary A straightforward game of line up and charge - I had managed to avoid putting too many of my cavalry in front of the longbowmen and so it was only one way traffic once the lancers got into the Free Company foot, as I was up at impact all along the line - and this led to a couple of the Free Company units becoming disrupted, from which they could not recover. The Longbowmen were in even worse straits as they were down both at impact and in melee, a sure recipe for defeat.
onto the next game
The Ancient Army List Index
Historical background notes, external links, 15mm supplier listings, FoG army lists, and a list of books about these armies
The Rise of Rome (280 BC to 25 BC) Mid Republican Roman ; Late Republican Roman ; Gallic ; Pyrrhic ; Later Carthaginian ; Ancient Spanish ; Later Macedonian ; Later Seleucid ; Later Ptolemaic ; Attalid Pergamene ; Numidian or early Moorish ; Pontic ; Early Armenian ; Parthian ; Later Jewish ; Illyrian ; Spartacus Slave Revolt ; Bosporan ;
Storm of Arrows - Western Europe in the Later Middle Ages (1300 AD to 1500 AD) Medieval French ; 100-yrs War English (Continental) ; 100-yrs War English (Britain) ; Later Medieval Scots ( Britain) ; Later Medieval Scots (Continental) ; Later Scots Isles & Highlands ; Medieval Welsh ; Later Anglo-Irish ; Medieval Irish ; Low Countries ; Later Medieval German ; Italian Condotta ; Swiss ; Free Company ; Medieval Burgundian ; Medieval Danish ; Medieval Swedish ; Medieval Castilian ; Medieval Crown of Aragon ; Medieval Portugese ; Later Granadine ; Navarrese ; Ordonnance French ; Wars of the Roses English ; Ordonnance Burgundian ; Santa Hermandad Nueva Castilian
Immortal Fire - The Greek, Persian & Macedonian Wars (550 BC - 146 BC)
Classical Greek ; Early Achaemenid Persian ; Lydian ; Thracian ; Syracusan ; Early Carthaginian ; Skythian or Saka ; Kyrenean Greek ; Late Dynastic Egyptian ; Alexandrian Macedonian ; Later Achaemenid Persian ; Classical Indian ; Early Successor ; Early Sarmatian ; Galatian ; Hellenistic Greek ; Graeco-Bactrian ; Graeco-Indian ; Indo-Greek :
Legions Triumphant - Imperial Rome (25 BC to 493 AD) Dominate Roman ; Principate Roman ; Foederate Roman ; Later Sarmatian ; Early German ; Dacian or Carpi ; Ancient British ; Caledonian ; Early Alan ; Jewish Revolt ; Sassanid Persian ; Kushan or Indo-Skythian ; Palmyran ; Early Frankish, Alamanni, Burgundi, Limigantes, Rugian, Suevi or Turcilingi ; Western Hunnic ; Early Visigothic & Early Vandal ; Early Ostrogothic, Herul, Sciri or Taifali ; Early Anglo-Saxon, Bavarian, Frisian, Old Saxon or Thuringian ; Gepid or Early Lombard ; Early Scots Irish ; Early Pictish ; Hephthalite Hunnic ;
Swords & Scimitars - The Crusades (1096 AD to 1311 AD) Early Crusader ; Later Crusader ; Fatimid Egyptian ; Georgian ; Seljuk Turk ; Cuman ; Komnenan Byzantine ; Post Latin Conquest Byzantine ; Ilkhanid Mongol ; Mamluk Egyptian ; Cilician Armenian ; Syrian States ; Khwarazmian ; Ayyubid Egyptian ; Middle Serbian ; Middle Bulgarian ; Medieval Cypriot ; Latin Greece ; Pecheneg ;
Eternal Empire - Eastern Europe and the Rise of the Ottomans (1300 AD to 1500 AD) Early Ottoman Turkish ; Later Ottoman Turkish ; Tatar ; Later Russian ; Later Serbian Empire ; Later Bulgarian ; Later Lithuanian ; Later Polish ; Later Teutonic Knights ; Catalan Company ; Middle Hungarian ; Moldavian or Wallachian ; Albanian ; Timurid, White Sheep Turcoman or Black Sheep Turcoman ; Later Hungarian ; Hussite ;
Decline & Fall - Byzantium and Islam (493 AD to 1071 AD) Early Byzantine; Maurikian Byzantine ; Thematic Byzantine ; Nikephorian Byzantine ; Later Moorish ; Later Visigothic ; African Vandal ; Italian Ostrogothic ; Early South Slav ; Lombard ; Avar ; Arab Conquest ; Early Bulgar ; Ummayad Arab ; Abbasid Arab ; Early North African Dynasties ; Khurasanian Dynasties ; Bedouin Dynasties ; Dailami Dynasties ; Pecheneg ; Ghaznavid ; Western Turkish (includes Khazar);
Wolves From The Sea - The Hairy European Dark Ages Post Roman British ; Early Welsh ; Later Scots Irish ; Merovingian Frankish ; Later Pictish ; Early Slavic ; Middle Anglo Saxon ; Astur Leonese ; Andalusian ; Early Navarrese ; Carolingian Frankish ; Viking ; Magyar ; Great Moravian ; Early Scots ; Rus ; Norse Irish ; Early Medieval French ; Early Medieval German ; Norman ; Early Polish ; Anglo Danish ;
Swifter Than Eagles - The Biblical Book Nubian ; Early Libyan ; Later Sumerian or Akkadian ; Early Nomad Allies ; Old or Middle Kingdom Egyptian ; Hyksos ; Mitanni ; Syro-Canaanite ; New Kingdom Egyptian ; Later Minoan or Early Mycenaean ; Hittite Empire ; ; Middle or Early Neo-Assyrian ; Later Mycenaean or Trojan ; Sea Peoples ; Philistine ; Phoenician Allies ; Neo-Hittite And Aramaean ; Later Hebrew ; Mannaean Allies ; Libyan Egyptian ; Urartian ; Median ; Neo-Elamite ; Proto-Arab Allies ; Cimmerian or Early Skythian ; Neo-Assyrian Empire ; Phrygian Allies ; Kushite Egyptian ; Neo-Babylonian Empire ;
Oaf of Fealty - Early Medieval Europe Feudal Catalan and Early Crown Of Aragon ; Early Hungarian ; Taifa Andalusian ; Feudal Navarrese and Aragonese ; Feudal Castilian Leonese or Portuguese ; Fanatic Berber ; Italo-Norman ; Feudal French ; Imperial German ; Feudal German ; Communal Italian ; Papal Italian ; Early Scots Isles And Highlands ; Feudal Scots ; Early Russian ; Feudal Polish ; Anglo-Norman ; Later Welsh ; Early Lithuanian or Samogitian ; Wendish Prussian or Estonian ; Early Medieval Frisia and Other Free Cantons ; Post-Viking Scandinavian ; Early Plantagenet English ; Later Sicilian ; Early Medieval Irish ; Early Anglo-Irish ; Early Teutonic Knights ; Mongol Invasion ; Early Granadine ; Middle Plantagenet English ;
Empires of The Dragon - China, Korea and Japan Erlitou-Shang Chinese ; Early Northern Barbarian Allies ; Early Zhou Chinese ; Yayoi Japanese ; Early Horse Nomad ; Ko Choson Korean ; Warring States To Western Han Chinese ; Qiang And Di ; Three Kingdoms Korean ; Eastern Han Chinese? ; Three Kingdoms W Jin And S Dynasties Chinese ; Kofun Nara Japanese ; Northern Dynasties Chinese ; Later Hindu North Indian ; Later Hindu South Indian ; Central Asian City States ; Western Wei To Early Tang Chinese ; ; Later Horse Nomad ; Tibetan ; Nepalese Allies ; Parhae Korean ; Late Tang To Five Dynasties Chinese ; Khmer Or Champa ; Thai Allies ; Nanzhao ; Pyu Burmese Allies ; Koryo Korean ; Early Heian Japanese ; Pagan Burmese ; Liao ; Song Chinese ; Xi Xia ; Ghurid Afghan ; Jin ; Late Heian To Muromachi Japanese ; Japanese Warrior Monk Allies ; Mongol Conquest ; Moslem Indian Sultanates ; Medieval Indonesian Or Malay ; Yuan Chinese ; Medieval Burmese ; Ming Chinese ; Yi Korean
Blood and Gold - The Americas Olmec ; Teotihuacan ; West Mexican ; Zapotec or Mixtec ; Toltec ; Chinantec ; Aztec ; Tarascan ; Tlaxcalan Confederacy ; Mayan ; Mochica ; Chanca ; Chimu ; Hatun-Colla ; Canari ; Inca ; Mapuche or Araucanian ; Amazonian Forest Tribes ; Tupi ; Chichimec ; Pueblo Culture ; Mound-Builder Culture ; South-Eastern Woodland Culture ; Timucuan ; Eastern Woodland Culture ; Plains Culture ; Pacific North-West Culture